I offer you all many cookies and cakes in apologies, It really pained me when I opened up my blog everyday and saw the same opening post for almost a month. But that's about to change - For once, Jess and I were both free on the same day so we took the opportunity to take some outfit photos! Over the next few posts I'll be sharing with you all, a couple of my favourite outfits from the past couple of weeks.
This particular outfit was one I wore to my internship. I threw it together in the midst of panic after having woken up late, again. Damn that snooze button. Tailored pants and platforms - you really can't go wrong.
I had originally planned to shoot this with a cream coat, like I had worn on the day. But being the forgetful person I am, my coat was hanging in my closet, all pressed and ready - 15kilometres away from where I needed it.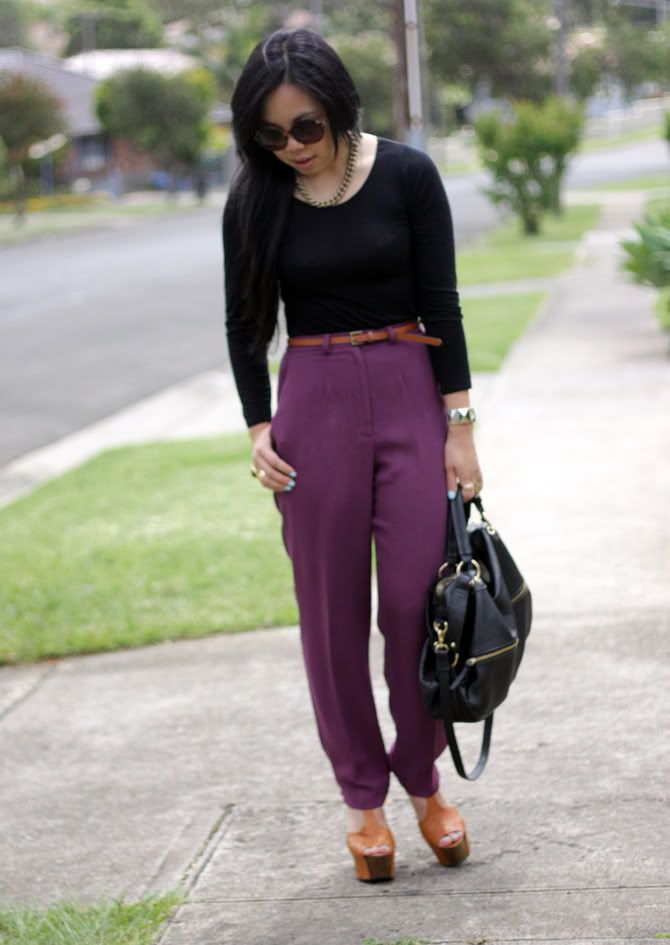 Black longsleeve sweat shirt - 'borrowed' from my cousin
Purple high waisted pants - thrifted - $1!!
Tan 'Bitten' wooden platforms -
ASOS
Rings (from left to right) - Ebay, Colette, Lovisa
Watch & Sunglasses- Sportsgirl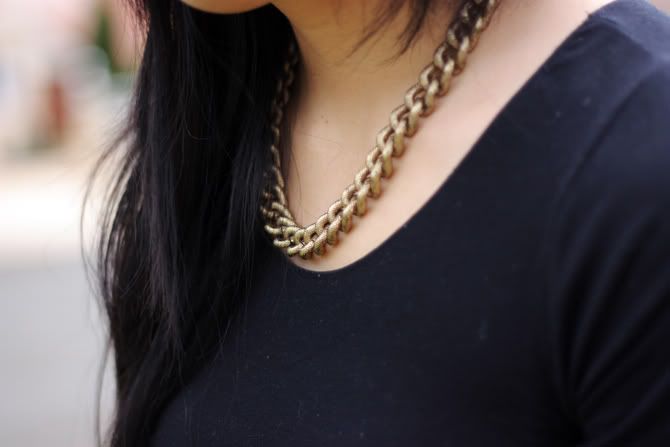 Something about this outfit made me feel so mature and professional. As I was walking from the station to grab my morning coffee, I caught a glimpse of myself in the reflection and at the risk of sounding conceited here - I thought 'Daaayum Girl, You working the office look'
Needless to say, that was my inspiration for the post title. Because this outfit in all ways that day, made me feel 'Like a Boss'.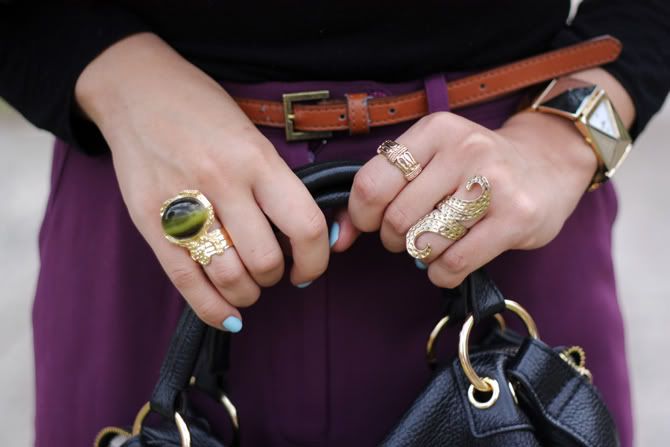 I'm head over heels for these purple pants. I found them last year during my HSC in a clearance op shop and when they fit perfectly I knew they had to be mine. Unfortunately I don't wear them too often as the previous owner had left an iron mark on the left leg which I have cleverly concealed here with an oversized bag. But I thought for a $1, I'd walk around and let people think I was incompetent with an iron. In a heart beat.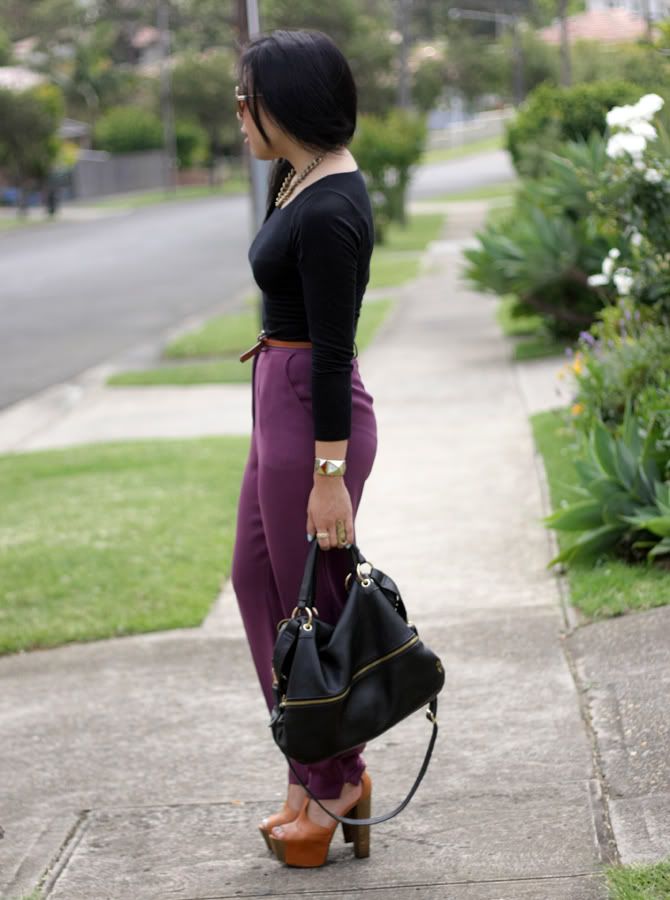 On a more personal note, my internship with
100squared
came to a close last week with my last duty being to assist on site at the Shop Til You Drop x 100squared exclusive shopping night event. After a full two months at 100squared, I have learned a great deal and had the opportunity to meet some wonderful people. It was actually through 100squared that I acquired my next internship. Yup, I somehow managed to land myself another!
I begin my internship at
Agent 25
this Thursday and I am overjoyed. I cannot begin to even fathom the amount I'll learn from interning at an actual PR firm. Public Relations is actually something I would love to do for a career and seeing as how I have planned to commit the next three years of my life to studying it, I thought it would a great idea to actually experience it first hand.
Also in terms of employment, I'm now also working at GAP. I can't wait to start building my chino collection. I'm sad to say I've only managed one pair so far, but knowing me, that'll soon change.